How to Network Your Way to Success (In-Person)
Register Now!
Or paste this link in your browser's address bar: https://www.eventbrite.com/e/how-to-network-your-way-to-success-tickets-461876463937
Join us in person to enjoy a night of great company and learn more about how to network effectively, especially in today's hybrid working environment!
In partnership with National Grid, NAAAP-NY invites you to come and hear from esteemed speaker Grace Chao, founder of KIP101, on how to network your way to success and navigate your careers in the new ways of working. We will have an informative presentation on networking and ample opportunities to play games and put into practice all that we learn throughout the night. Food and drinks will be provided!
The event will be hosted at National Grid's office location in Downtown Brooklyn at 2 Hanson Place and is conveniently located above the Atlantic Avenue subway station with access to many major subway lines.
** NAAAP-NY members receive a special discounted rate to the event. Please be on the lookout for a separate email containing the promo code. If you would like to become a member, please visit the NAAAP-NY Membership page to take advantage of our current Membership special offer ($20 off)! **
** For a special student discount, please reach out to eric.hung@naaapny.org with your college email address to receive a discount code **
About Grace Chao, Founder of KIP101
Grace Chao worked in finance, consulting and education before starting KIP101, a professional networking and knowledge-sharing platform. Her experiences include serving as the Managing Director of a successful consulting firm she helped build from scratch and Founding Board Treasurer of a high-performing charter school for underprivileged children she helped establish.
Grace has an MBA from Columbia University and a Bachelor's from Carnegie Mellon University. Grace hopes KIP101 will help more people fulfill their potential in the workplace.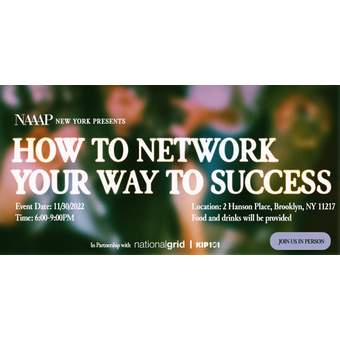 2 Hanson Pl, Brooklyn, NY 11217, USA